Printed by http://berlin.city-map.de/city/db/070102017001/library-the-monument-about-the-book-burning
Library - the monument about the book burning
Image Copyright: Gisela Pape

The Bebelplatz Unter den Linden, once the Opernplatz with the Old Royal Library is also the place where the 'book burning' took place on the 10th of May 1933 when national socialist students burned thousands of books from despicable un-German authors like Heinrich and Thomas Mann, Erich Kästner, Stefan Zweig, Heinrich Heine, Karl Marx, Alfred Kerr, Kurt Tucholsky and many other writer. 

After the National Socialists came to power in 1933, book burnings, which happened also in many other German university towns, were the highlight of the campaign 'Against the un-German Intellect'. This was prepared by the main office for press and propaganda of the German student body and was used as intellectual elimination of the public and university opposition.


Propaganda Minister Goebbels supported the book burning in Berlin with a diatribe against the 'ostracised' Jewish socialist and democratic authors, which had no place at the NS-art and culture.During the 'cleansing' of public and private libraries of 'degenerateliterature' done by 'black lists' around 10.000hundredweight literature was confiscated alone n Berlin until end of May 1933.

The monument by the international renowned sculptor Micha Ullman, member of the Academy of Arts acts as a reminder of this sombre event since 1995.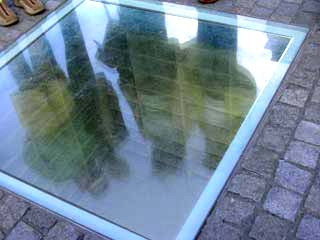 Image Copyright: Gisela Pape
The sunken 'Library', the monument about the book burning - an underground room in the middle of the Bebelplatz, an in-ground library with empty shelves that can be viewed through a pane from above.

With the inscription:

Das war ein Vorspiel Nur dort
wo man Bücher verbrennt verbrennt
man am Ende auch Menschen
Heinrich Heine 1820This was a prelude Only where
one burns books one will burn
also people in the end"Bibliothek"von micha Ullman
Denkmal
Die Bücherverbrennung vom 10. Mai 1933
gebaut 1994/95

In der Mitte dieses Platzes
verbrannten am 10. Mai 1933
Nationalsozialistische Studenten
die Werke Hunderter freier Schriftsteller,
Publizisten, Philosophen und Wissenschaftler.In the middle of this place
National Socialist students burned
on the 10th of May 1933 worksfrom hundreds offree authors, publicists, philosophers and scientists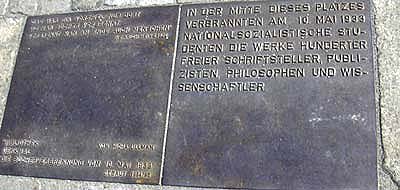 Image Copyright: Gisela Pape