Printed by http://berlin.city-map.de/city/db/070103040501/bode-museum-sculptures-collection-and-museum-for-byzantine-art-coin-cabinet-2
Bode-Museum Sculptures Collection and Museum for Byzantine art, coin cabinet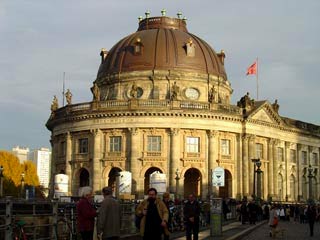 Image Copyright: Gisela Pape
  Bode-Museum - Sculpture Collection and Museum for Byzantine Art, Coin Cabinet 

The Bode-Museum shines again in its full glory. The extensive Bode-Museum restoration took five years with a budget of 152 million Euros. Now one can enjoy again at the Bode-Museum the sculpture collections, the Museum for Byzantine Art, the coin cabinet and around 150 pictures at the painting gallery.

The restored rooms are by themselves an artwork, splendid cupola halls, curved stairs, marble floors, Renaissance ceilings, light-flooded rooms. This large Wilhelmine Museum's palace was renewed from the cupola to the foundation and equipped with the most modern technique.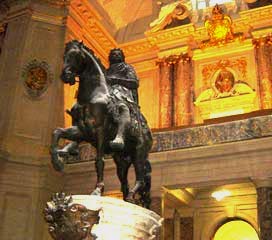 Image Copyright: Gisela Pape
  At the large cupola hall visitors are greeted by the enormous equestrian statue of the Great Elector, created by Andreas Schlüter. The small cupola hall follows the major axis via the curved, richly decorated grand stairs, past the princes' statues one reaches the upper floor. A cultural-historical gem has been restored after templates – the original frescoes from the  Villa Volpato Panigai in Nervesa.
Image Copyright: Gisela Pape
  Additional new buildings like stairwell, lift, underground depots and workshops were more or less unnoticeable integrated into the historical building by the Swiss architect Heinz Tesar. Five courtyards with a sculpture-course can be enjoyed by visitors during the walk-about outside. A children's gallery, a museum's shop, a Cafeteria will be situated in the entrance hall, the pre-conditions for the planned underground passage to the Pergamonmuseum according to the master-plan Museumsinsel were created.


  The coin cabinet is located at the basement of the Bode-Museum. Heart of the facility is the around 50m long strong-room with its 7260 drawers, where roughly half a million coins from several centuries are stored, scientifically evaluated and are in open the parts of the public. with its around 500.000 objects the coin cabinet constitutes numismatic worldwide the largest collection. The collection's international standing is owed to the wealth and the wholeness of coin series from the beginning of coinage in the 7th century BC in Asia Minor to coins and medals of the 20th century.


  Address:
Bode-Museum, Münzkabinett
Bodestraße 1-3
10178 Berlin

To the Homepage of the Bodemuseum - Bode-Museum


Tel.: +49(0)30 - 2090-5701


Travel Connection:

  S1, S2 (Friedrichstraße); S5, S7, S75, S9 (Hackescher Markt)

  U6 (Friedrichstraße)

 Tram M1, 12 (Am Kupfergraben); M2, M4, M5, M6 (Hackescher Markt)

 TXL (Staatsoper); 100, 200 (Am Lustgarten); 147 (Friedrichstraße)